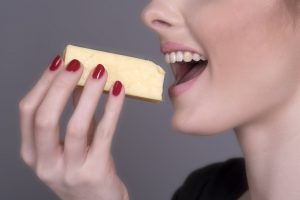 Did you know that a recent study published in General Dentistry found evidence that eating cheese can prevent cavities? Not only does the calcium and protein benefit you by strengthening your teeth and bones, it also helps you take a step towards having a healthy, cavity-free mouth at the same time. Not to mention that cheese is a delicious way to add flavor to many of your favorite dishes. While cheese isn't the only thing you need to do to avoid dental work, it's one easy step you can take to help minimize the dental work you need. If this sounds appealing, continue reading as a Longmont dentist talks about the relatively unknown benefits of cheese for your oral health.
How Does Cheese Prevent Cavities?
Simply put, cheese can help to neutralize the acids in your mouth. If left unchecked, these acids can wear away the enamel, the protective outer layer of the teeth, and cause decay. After consuming cheese, a residue is left behind that further protects the teeth.
In addition, the simple chewing action from eating cheese stimulates salivary flow, which is important to wash away plaque, bacteria and food debris. Not to mention that saliva further neutralizes acids in the mouth on its own, which is an added benefit.
How Can You Healthfully Add Cheese to Your Diet?
While most people can agree that cheese is delicious and has several health benefits, it's wise to keep an eye on portion control. Cheese is a calorie-dense food and also has a fair amount of saturated fat.
The good news is that only a small amount is needed to confer the anti-cavity benefits of cheese. Even just one or two bites, or about an ounce, is all that's needed. It can be added to dishes or eaten on its own with apple slices or whole grain crackers to make a quick and healthy snack. Cavity prevention has never been so easy!
In addition to adding cheese to your diet, it's important to avoid sugary snacks and beverages, as well as brush and floss consistently. And as always, be sure to have regular checkups and cleanings with a dentist in Longmont.
By taking preventative steps on your own and establishing regular care with a professional, you have a good chance of preventing cavities for life.
About the Author
Drs. James and Dan Maurer are a father and son team who are dedicated to providing the best dental care to their community in Longmont, Colorado. Combining their friendly, compassionate chairside manner with their expertise and enthusiasm for dentistry, they're able to help you achieve the healthy and beautiful smile you've always wanted. They can be contacted through their website or at (303) 776- 2214.