Implant Dentures — Longmont, CO
Achieve the Comfortable, Stable Smile You Deserve
In the past, the only tooth replacement option available for patients facing moderate to severe tooth loss was a denture. While dentures are a reliable way to replace those missing teeth and regain some chewing power, they're a far cry from a set of natural teeth. Thankfully, traditional dentures aren't your only option anymore! At Longmont Complete Dentistry, we can help you achieve the comfortable, stable smile you deserve with implant dentures in Longmont. Read on as we go over this state-of-the-art tooth loss solution and how it can potentially change your life. Then, give us a call when you're ready to schedule your consultation.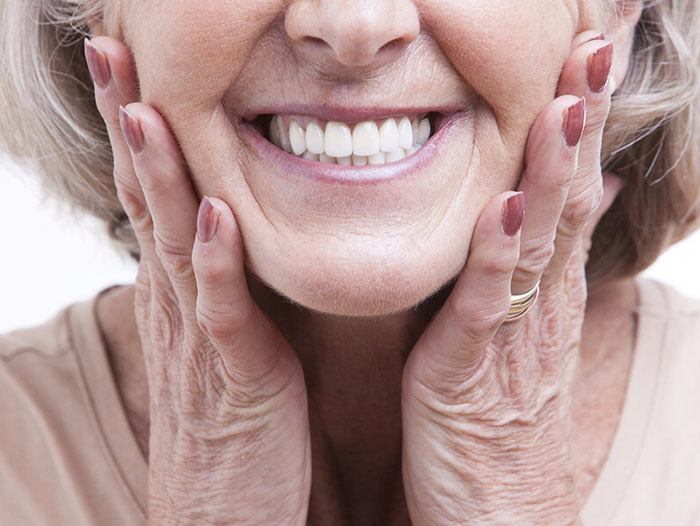 What Are Implant Dentures?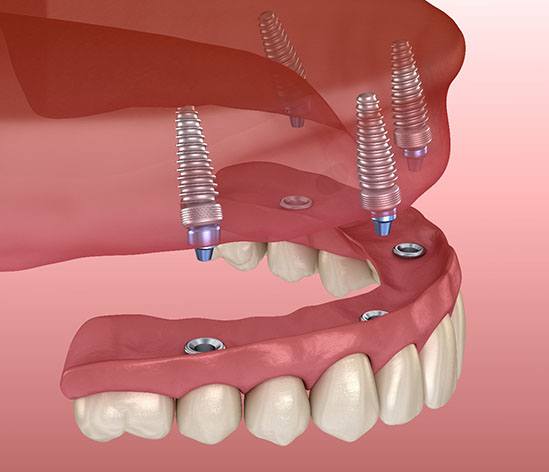 Traditional full and partial dentures rest on top of your gums or wrap around your remaining teeth for support. Alternatively, implant dentures are anchored in place by four to eight small metal posts called dental implants. Dental implants fuse with the jawbone to replace the roots of missing teeth and create a replacement that feels and functions just like natural. Depending on your specific situation, we may recommend one of the following options:
Fixed/Permanent Implant Dentures
Fixed or permanent implant dentures are designed to stay in place permanently, only to be removed by a dentist. This means that you'll wear them while you eat, sleep, brush, floss, and go about your day as if they were your natural teeth.
Removable Implant Dentures
On the other hand, removable implant dentures can snap onto and off of the dental implants. Patients can remove their implant dentures occasionally while still enjoying all the benefits of an implant denture.
The Implant Denture Procedure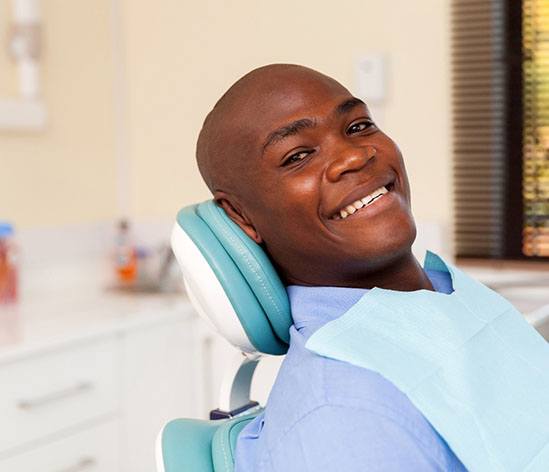 Every patient's journey towards a new smile will look slightly different, but there are four main steps you can anticipate:
Step 1: Consultation. First, you'll meet with us for a consultation to ensure that implant dentures are a good choice for you and determine if you need preliminary treatments like a bone graft.
Step 2:Implant surgery. Next, four to eight dental implants are placed into your jawbone at precise locations in a minor oral surgery.
Step 3: For the next several months at home, your dental implants will fuse with your jawbone in a process called osseointegration.
Step 4:Get your new denture. Finally, you'll return to our office to have your brand-new, custom-made denture secured to your dental implants.
Am I a Candidate for Implant Dentures?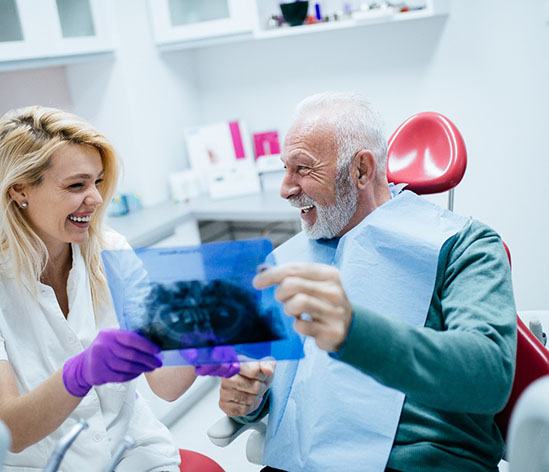 If you are a relatively healthy adult missing most or all your teeth, it's likely that you're a good candidate for implant dentures. This versatile treatment can help patients of basically any age missing any number of teeth. However, to be considered a good candidate, you'll need to have a healthy mouth and adequate jawbone density. If needed, we may be able to help you become a good candidate with preliminary treatments like a bone graft or gum disease therapy, or you may be interested in All-On-4 dental implants instead.
Benefits of Combining Dentures & Dental Implants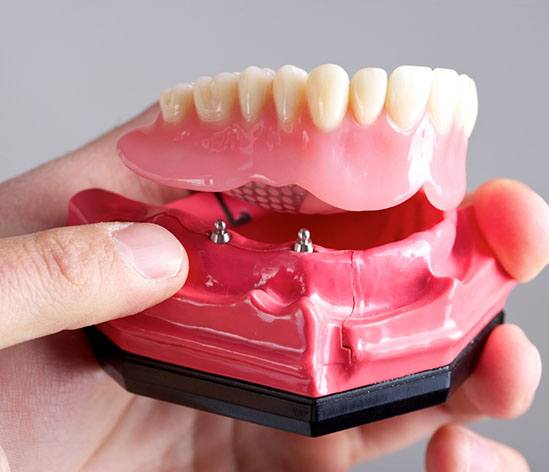 Implant dentures are able to overcome nearly every downfall and drawback of traditional dentures with benefits like:
Stimulation of the jawbone, preventing deterioration
Vastly improved biting force of 80% or more restored chewing power
Reliably successful treatment with over a 95% success rate
No slipping, looseness, or popping out of place like with traditional dentures
The potential to last a lifetime with the proper care
And many more!