Preventive Dentistry – Longmont, CO
Preserving Longmont Smiles
Achieving a healthy, beautiful smile isn't like crossing a finish line – it's a lifelong journey that takes constant care and maintenance. Thankfully, a dedicated, friendly team like the one at Longmont Complete Dentistry can support you and your loved ones every step of the way. Dr. Dan Maurer looks forward to building a relationship with each of his patients, and he'll help you stop common dental problems as soon as possible to save you plenty of time, money, and pain. Contact our dental office today to schedule a first visit for preventive dentistry in Longmont, CO. We're open to new patients from Berthoud and Boulder, CO along with other surrounding areas too.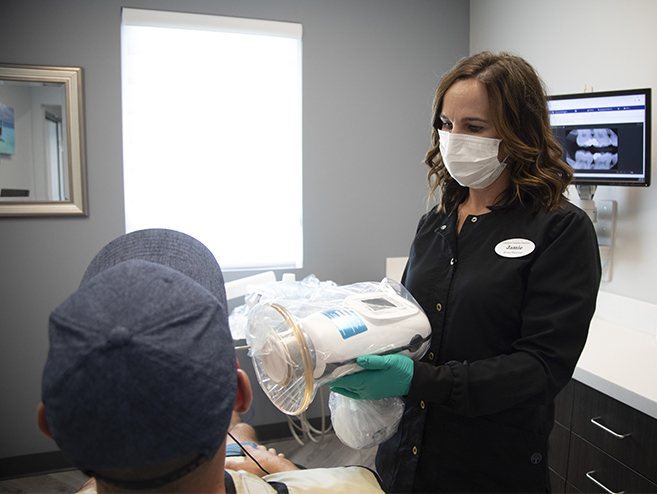 Why Choose Longmont Complete Dentistry for Preventive Dentistry?
Kid-Friendly Treatments
We Accept Dental Insurance
Family-Owned Dental Office
Your First Visit with Us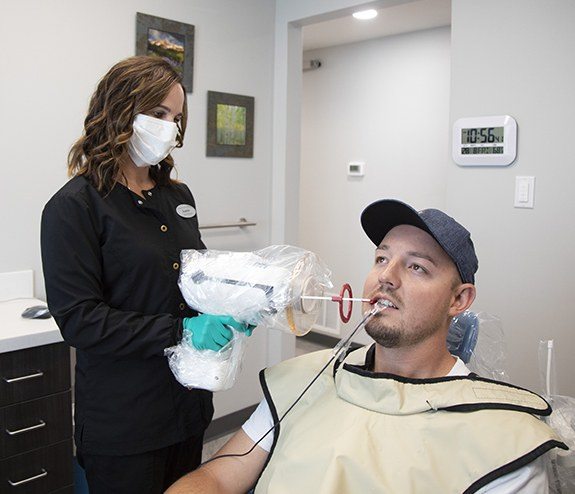 When you choose to become a patient at Longmont Complete Dentistry, we won't waste any time in helping you feel right at home. Dr. Dan will start by engaging you in conversation about your visit – do you have any specific goals for your smile? Have you noticed any problems or discomfort that may need attention? Our team wants to know all about it. There are so many aspects when it comes to creating the ideal treatment plan for each patient in need, and we want to make sure we get it right for you.
Then, it'll be time to start the exam process, and we definitely don't take any shortcuts here. Dr. Dan will use state-of-the-art digital X-rays to create a clear picture of your mouth, and intraoral cameras allow us to give you an up close and personal tour of your teeth and gums so that you can understand your current oral health even better. After screening for common dental problems (tooth decay, gum disease, periodontal therapy, oral cancer, and more), it'll be time to sit down again and discuss the findings. Dr. Dan will provide his recommendations for treatment and outline all of your options so that you can choose what fits your personal situation best. It's really that simple.
Dental Checkups & Teeth Cleanings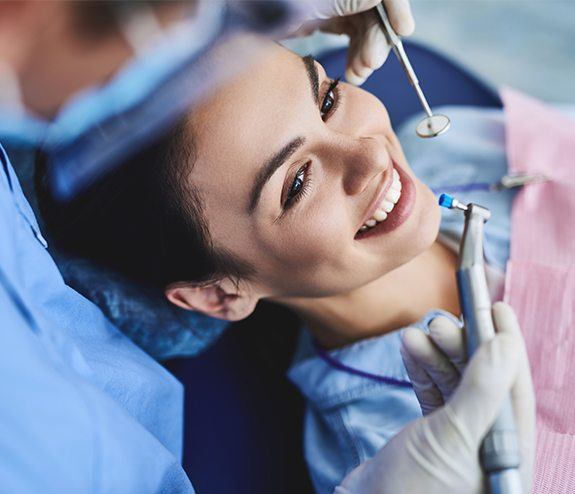 We also strongly recommend that you undergo a cleaning with our talented hygienists. They'll clear away dangerous plaque and tartar from the mouth and provide helpful tips for brushing and flossing properly as well.
Learn More About Checkups & Cleanings
What Do Intraoral Cameras Do?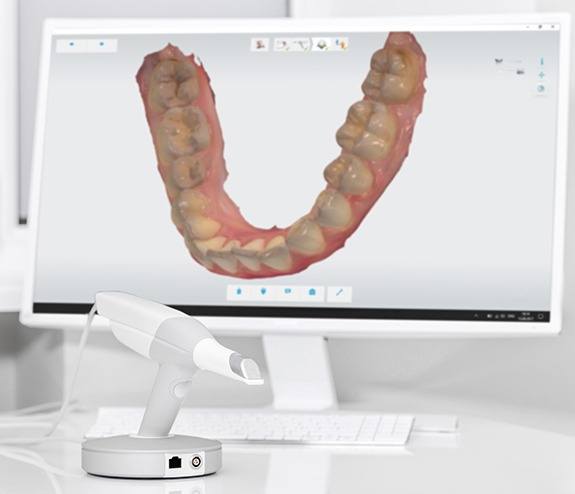 We offer a wide range of procedures and a lot of different ways to help you smile bigger and brighter with each passing year. Dr. Dan achieves this through advanced clinical training, in addition to the state-of-the-art technology our dental office utilizes. We employ several gadgets that allow our team to offer not only higher quality care, but also a better experience for the patient.
At many dental offices, patients are expected to only trust the dentist on their recommendations. At our dental office, Dr. Dan expects patients to trust him, too, but intraoral cameras help with this process. Using a camera, we can show you exactly what is going on inside your mouth — introducing a co-diagnostic approach to dental care. You don't have to only take our word for it... you get to see for yourself!
We Provide Children's Dentistry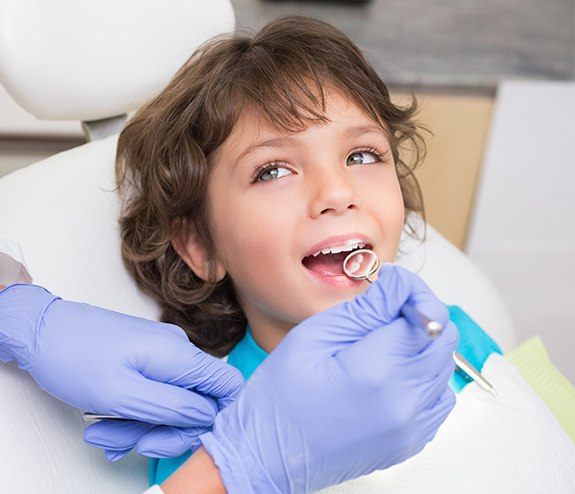 We pride ourselves on being a family dental office above all else. Dr. Dan enjoys growing with you and helping you better understand your dental concerns, and this dedication includes children who are just getting started with their bright, new teeth. In fact, studies have shown that young patients who start seeing a dentist early on in their lives tend to have less anxiety about treatment as they get older. Our goal is to give them a dental home where they can feel safe and well cared for.
Our Longmont team offers several services that can be personalized for little smiles, including dental sealants and fluoride treatment. Dental sealants are designed to cover the chewing surfaces of back teeth (premolars and molars) and protect the deep grooves from bacteria, potentially reducing the risk of cavities for your loved one. Additionally, periodic applications of fluoride (a natural mineral that can be found in the air, fresh vegetables, and tap water) can strengthen their teeth as well. Dr. Dan may also recommend these services for adults, if needed.
Learn More About Children's Dentistry
Customized Mouthguards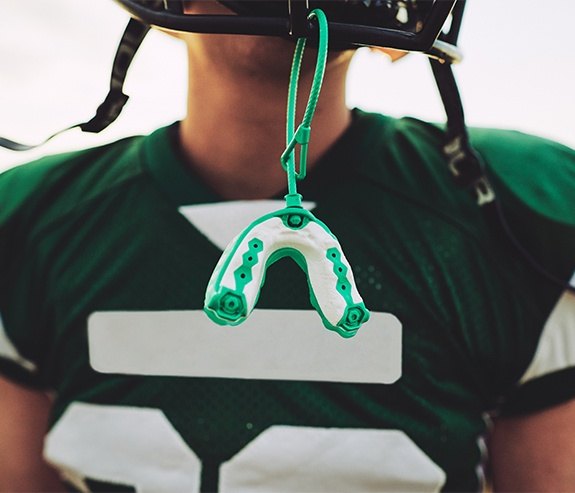 Mouthguards are a common component of preventive dentistry, and there are multiple reasons why Dr. Dan might recommend one to his patients. Are you struggling with teeth that seem more and more worn down or chronic pain in the face and jaw? These are common symptoms of bruxism (teeth grinding) or even TMJ disorder, which can negatively affect your oral health and your overall wellbeing. A nightguard (which is typically worn at night, hence the name) can help protect teeth from dangerous grinding and let the jaw rest in a more comfortable position.
We also offer sportsguards, which are an important piece of gear for athletes of all ages who are regularly at risk of coming in contact with hard objects or other players. Your vulnerable smile needs some extra protection from damage during these dangerous instances, and Dr. Dan would be happy to design the ideal sportsguard that fits comfortably in the mouth and keeps your teeth safe. As opposed to store-bought mouthguards, customized oral appliances from a dentist are more flexible and more comfortable to wear while still making it easy to breathe and speak with them in your mouth.