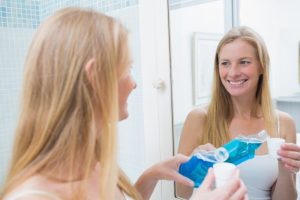 You brush twice a day, and you've mastered the habit of flossing regularly. You love the sensation of having a clean and fresh mouth, but you're busy and you're wondering if you really need to add another thing to your oral hygiene routine. Many people use mouthwash and swear by its helpful effects, while other people never use it and seem not to be any worse off for it. Is mouthwash really beneficial for your oral health? Your dentist in Longmont is here to weigh in on the debate.
Cosmetic Mouthwashes
There are two basic types of mouthwashes: cosmetic and therapeutic. The cosmetic type aims to do things like freshen your breath and remove surface stains from your teeth. In many cases, they are effective. Regular use can kill bacteria that causes odors, giving you an extra boost of confidence when you go in for that big interview. The bit of whitening power that mouthwashes like Colgate® Total® Lasting White provide can also help you feel great about your smile.
Many cosmetic mouthwashes also contain a bit of fluoride, a mineral that is important in replenishing the tiny pieces of enamel that your teeth lose throughout the day. However, toothpaste and municipal tap water often contain enough fluoride to keep your teeth strong.
Ultimately, whether you use a cosmetic mouthwash is up to you. Whatever you choose to do, your decision is unlikely to have a big effect on your oral health.
Therapeutic Mouthwashes
Therapeutic mouthwashes focus on helping with specific oral health problems. For example, they might:
Fight gingivitis
Reduce plaque formation
Reduce tooth sensitivity
Reduce plaque and tartar formation
Some therapeutic mouthwashes are available over the counter, and your Longmont dentist might recommend that you pick one up to boost your oral health.
Other therapeutic mouth rinses are available only by prescription. For example, those that contain chlorhexidine gluconate (a strong bacteria-killing agent) are used specifically to treat certain types of gingivitis or other oral health conditions. These mouthwashes can help to prevent bleeding and inflammation in the mouth.
Unfortunately, some germ-killing mouthwashes come with unpleasant side effects, such as dry mouth. If this happens to you, you may need to drink more water or consult your dentist to see if there is an alternative product that can address your oral health needs.
The Bottom Line on Mouthwashes
For many people, mouthwash is beneficial but not strictly necessary. For others, using a therapeutic mouthwash might make the difference between a healthy mouth and a suffering one. You should always listen to your dentist's recommendations about products that can improve the state of your teeth and gums.
About Longmont Complete Dentistry
The team of dentists and other staff at Longmont Complete Dentistry is committed to helping you achieve and maintain excellent oral health. If you have questions about which products to use to benefit your mouth, we'd be happy to give you recommendations at your next appointment. Please feel free to contact us at 303-776-2214.