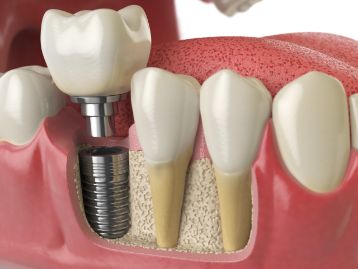 Dental implants have completely changed the field of dentistry. They're such a successful way to replace teeth that they've grown exponentially in popularity over the last couple of decades. In fact, 3 million people in the U.S. have dental implants and an additional 500,000 implants are placed each year. If you've been considering getting a dental implant in Longmont, you might be wondering how long it will take to complete the procedure. In this blog, you'll learn more about how implants work and when you can expect your new tooth to be finished!
How Do Implants Work?
Dental implants are titanium posts in the jaw that replace the roots of missing teeth. This is what separates them from other replacement options such as dentures and bridges, which only replace the crowns of missing teeth.
Replacing the roots of your teeth is important for multiple reasons. First, it gives your teeth stability, support and chewing strength. Second, it maintains the bone mass in your jaws that makes up your facial shape and structure.
After the implant heals, a crown, bridge or denture will be attached to the implant to complete the restoration.
What Is the Implant Surgery Like?
The procedure involves two phases:
During the first phase, a surgical-grade titanium post is placed in the jaw. Rest assured, this is much easier and more comfortable than you might expect and usually takes 1-2 hours per implant.
Next, the implant is given 3-6 months to heal, or fuse, with the jawbone, during which time you can eat, drink and function normally.
The second phase involves attaching a crown, bridge or denture to the implant to fully restore your missing tooth (or teeth). This part of the restoration will be precisely matched to the rest of your smile so that it looks very natural.
When Will You Get Your New Tooth?
The total treatment time for dental implants depends on multiple factors, and each patient is different. For example, a straightforward single implant, from start to finish, can be done in 5-6 months. But if a significant amount of bone has been lost in the jaws and a bone graft is needed, the process may take a year or more.
A dentist can give you an estimate after evaluating your needs. In many cases, they can also put a temporary crown or bridge in place after the initial implant surgery so you have a full set of teeth while waiting for the permanent restoration.
Implants are the strongest tooth replacement option and feel more natural than anything else. And, although the procedure takes longer, it's well worth it because implants can last a lifetime with proper care!
About the Author
Dr. Dan Maurer is a general and implant dentist in Longmont and also a native of the area. He loves providing implants to the people in his community who have experienced tooth loss and knows it makes a difference in their quality of life. If you have any questions about dental implants, he can be reached via his website.