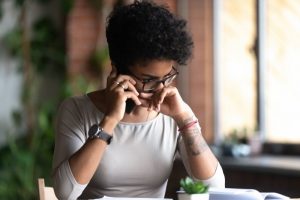 Did your routine checkup and cleaning or cosmetic procedure get cancelled due to COVID-19? Unfortunately, many dentists had to halt their elective and non-emergency appointments to slow and hopefully even stop the spread of the virus. So, where does that leave you if you're experiencing pain or a knocked-out tooth? Fortunately, your emergency dentist is still open and taking patients for essential and urgent treatments. Read on to find out when you should contact them.
Non-Emergent Dental Treatments & Procedures
Dentists are currently halting elective, routine, and generally non-emergent dental treatments in an effort to address the official statement made by the American Dental Association. This stated the following: "The ADA is deeply concerned for the health and well-being of the public and the dental team. In order for dentistry to do its part to mitigate the spread of COVID-19, the ADA recommends dentists nationwide postpone elective procedures for the next three weeks…"
Here is a list of services that dentists are holding off from performing in the weeks to come:
Follow-up visits
Routine checkups and cleanings
Orthodontic procedures which don't address pain
Preventive treatments, such as dental sealants
Extraction of teeth that aren't showing any symptoms or causing pain
Restorative dentistry, such as crafting dentures and bridges
Cosmetic treatments, including teeth whitening and porcelain veneers
Dental Emergencies During COVID-19
Typically, if you're experiencing any amount of pain, it's likely due to an issue that needs to be addressed in a timely manner. If you're unsure of whether the problem warrants an emergency visit, contact your dentist beforehand to discuss your symptoms. Here is a list of some problems that would be considered dental emergencies:
Tooth infection that is resulting in a severe toothache
Facial swelling
Dental trauma, such as a broken or fractured tooth
Pain from wisdom teeth
Any dental treatment required before a critical medical procedure
Final restoration placement if the old one has been lost
Biopsy of possibly cancerous tissue
Severe tooth decay causing pain
Suture removal
Denture adjustment that impacts the function
Replacing temporary fillings if experiencing pain
The Importance of Not Waiting
Even though it can feel nerve-wracking to have to make a judgement call and pick up the phone to dial your emergency dentist, it's well worth it. Typically, these issues only get worse the longer you wait, which is why it's important to act quickly. In urgent situations, time is of the essence and often means the difference between saving and losing a tooth.
If you need any over-the-phone first-aid guidance or a second opinion as to whether your issue constitutes as a dental emergency, don't hesitate to contact your emergency dentist. With fast and effective treatment, they'll be able to get your oral health back on track so you won't have to worry anymore.
About the Author
Dr. James Maurer has decades of experience under his belt and has helped countless patients with their emergency dental problems. He takes the time to listen to each of his patient's issues and symptoms to make a fast and thorough diagnosis. That way, he can efficiently cure the issue, so you can get back to your daily life. If you're experiencing an emergency, he'll make sure that you receive treatment that same day, so you don't have to wait in pain. For questions or to schedule an urgent appointment, visit Longmont Complete Dentistry's website or call 303-772-7000.