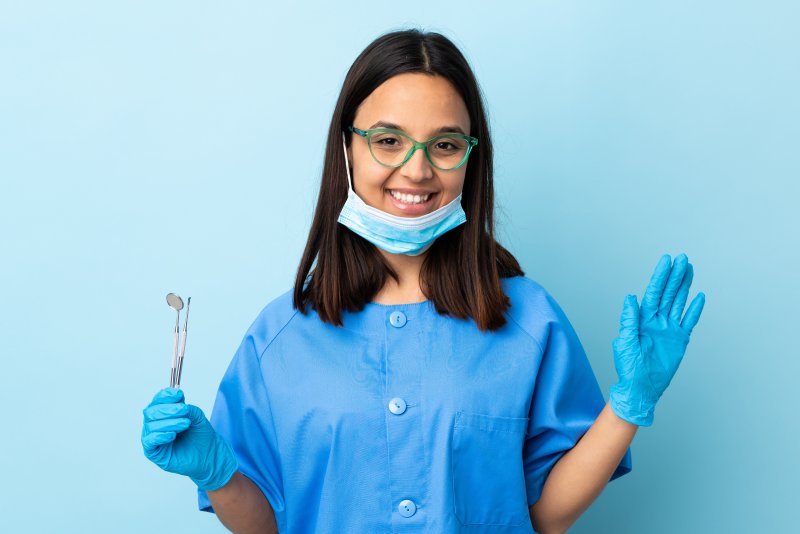 After indulging in a few too many snacks with no visit to the dentist in sight, it is time for some post-quarantine TLC for your teeth. After checking in virtually, you walk into the office and immediately feel uncertain. While you are excited to see the dental team, how can you warmly greet them without breaking the social distancing guidelines? If you have found yourself wondering the same question, your Longmont dentist is here to share four creative greetings to use at your dental appointment during COVID-19.
The Foot Tap
Also known as the ankle shake, people across the world are opting for this greeting by extending their leg to tap their foot with the other person's. Not only does this greeting require no skin-to-skin contact, but it also prevents using your hands as the point of interaction. This is crucial during a pandemic since millions of bacteria can live on your palms at any given time and spread from person to person. Therefore, the foot tap is a much better (and safer!) alternative to a handshake or fist bump.
The Air High-Five
While initially minimal contact greetings, like the elbow bump, were considered pandemic-friendly, experts are now recommending otherwise. After all, the public is currently being advised to sneeze or cough into their elbow. Therefore, opt for a hello that requires absolutely no contact, like the classic air high-five.
The "Live Long and Prosper" Sign
When Spock first used the "Live Long and Prosper" salute back in 1967, it was an instant classic. So much so that fans of the Star Trek franchise have used it ever since! If you want a contactless greeting that shows off your personality, makes someone smile, and prevents the spread of COVID-19, then this is the way to go!
A Smile and Wave
You can never go wrong with flashing your picture-perfect smile when saying hello, especially at the dentist! Their entire team is dedicated to helping you achieve and maintain a gorgeous smile, so seeing you confidently share it will make their day. Use it in tandem with a friendly wave and you have the perfect greeting for your visit.
Hellos that require minimal to no contact can seem awkward at first, especially if you are used to warm hugs and friendly handshakes. However, in light of the current pandemic, it is a must. Fortunately, these four creative greetings allow you to show your enthusiasm for seeing your dental team without breaching social distancing guidelines!
About Longmont Complete Dentistry
With distinguished dentists, family-friendly care, and a convenient location, the team at Longmont Complete Dentistry has provided world-class service for over 20 years! Led by the father-son duo of Dr. James A. Maurer and Dr. Dan Maurer, the team at Longmont Complete Dentistry delivers personalized care that will truly make you feel like a member of the family. To get information on how they are using their expertise to remain a safe Longmont dentist, visit their website or give them a call at 303-772-7000.