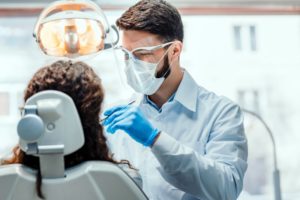 Have you been putting off your routine checkup and cleaning with your dentist in Longmont since everything began shutting down due to COVID-19? Now, it's been nearly six months, and you're due for an appointment. However, you're not sure whether it's a good idea to schedule it or not. Read on for four reasons you should still visit your dentist for a dental appointment, even during the COVID-19 pandemic.
They've Implemented Several Practices For Your Safety
The first thought that likely comes to mind while debating about whether or not to schedule your regular dental appointment is if it's safe to do so. When COVID-19 emerged, your dentist shut down and developed a safety protocol plan to prioritize their patients' safety before reopening. It includes daily team and patient health screenings, advanced safety training for staff, proper PPE, implementing a virtual waiting room system, and even including family scheduling and at-risk patient office hours. These are only a few of dozens of new safety protocols in place.
You Don't Want to Open The Door To Worsening Oral Problems
Even if you're diligent about brushing and flossing at home, there are small nooks and crannies in your mouth that need to be professionally cleaned, because you won't be able to reach them. If plaque and tartar accumulate, it could lead to the development of common problems like cavities. With a professional cleaning, you can rest-assured that your smile is healthy while you continue to self-isolate.
Routine Oral Cancer Screenings Are Vital
Every six months, your dentist provides you with a thorough oral cancer screening. During it, they assess your mouth, lips, and throat for common signs of the disease, such as red and white patches on oral tissues, wounds that won't heal, and abnormal oral growths. If something suspicious is spotted, they will let you know and refer you for additional testing. Oftentimes, dentists are the first people to notice early signs of oral cancer, which is why it's crucial that you don't skip out on your checkup.
Stop Cavities & Gum Disease In Their Tracks
Cavities and gum disease are among the most common oral health problems in the United States. These can be caused by an accumulation of harmful oral bacteria in the mouth as a result of plaque and tartar buildup. When they're treated early, you won't have to worry about them causing permanent oral damage. However, if they aren't, it could result in serious effects, such as toothaches and receding gums. The best way to prevent this discomfort is to visit your dentist every six months.
Just like the threat of COVID-19 still exists, the threat of cavities and other oral health problems also linger. Fortunately, with all of the additional safety precautions being implemented by your dentist, their office is one of the safest public places you can go to at the moment! That way, you can look after your physical health as well as your teeth and gums!
About the Author
Dr. Dan Maurer was born and raise in Longmont, making him passionate about helping take care of everyone in his communities' smiles. He is dedicated to helping optimize his patients' oral health while making them feel comfortable and welcome at the practice. In response to the COVID-19 pandemic, he has implemented 31 additional safety protocols to help prioritize patient safety as well. For questions or to schedule a checkup and cleaning during the COVID-19 crisis, visit Longmont Complete Dentistry's website or call 303-772-7000.