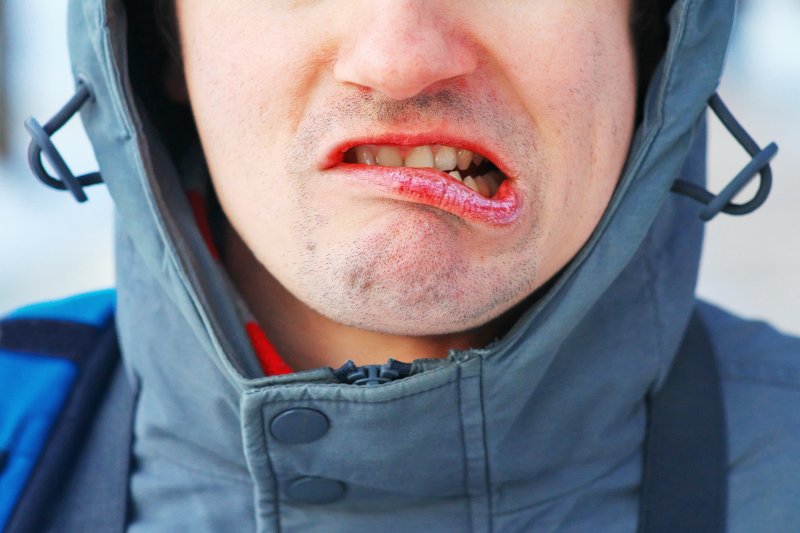 Now that the weather is getting chillier and the days are becoming shorter, you are probably curling up by the fire, getting your holiday gifts ready, and breaking out the old family cookbook. However, not everything about the season is great. There are many different common winter mouth issues that you may be experiencing during this time of year. Continue reading to learn what these are and what you can do to prevent them from occurring.
Chapped Lips
This is an issue that most of us have encountered at one point or another. The combination of cold air, wind, and the sun's rays can leave you with extremely dry, chapped lips. When your lips are exposed to these elements, you can easily damage the delicate skin of your lips. To keep this from happening this year, it is important to keep them moisturized. Wear a lip balm that contains SPF 15 or higher and apply it often. Using a humidified in your house can also help to add extra moisture in the air. If your lips are already chapped, use petroleum jelly to lock in the moisture. Remember to drink plenty of water as well. If you aren't hydrated, your lips won't be either.
Dry Mouth
In addition to your lips being dry, many people encounter dry mouth during the winter months as well. If you have a stuffy nose as a result of a cold or the flu, you are likely to be breathing through your mouth more often. The more that you do this, the more likely you are to suffer from dry mouth. To stop this, avoid caffeine, drink plenty of water, and try chewing on sugar-free gum to stimulate saliva flow.
Sensitivity
Have you ever noticed that you encounter more tooth sensitivity in the winter? This is because you are breathing in cold air more often which lowers the temperature in your mouth. That can cause you to feel that painful sensation of temperature sensitivity. To reduce this, remember to breathe through your nose instead of your mouth. Using a fluoridated toothpaste that's made for people with tooth sensitivity can also help.
Canker Sores
If you are getting more canker sores over the holiday season, this is probably because you've been indulging in holiday sweets! Lots of treats are sugary and acidic at this time of year. Remember to go easy on the cider, sugary sweets, and spicy dinners. To help these sores heal faster, use a homemade rinse containing a half cup of warm water and a teaspoon of salt.
Winter can make your smile struggle, but by taking these precautions, you will be able to prevent oral health issues from disrupting your fun this holiday season.
About the Practice
Dr. James Maurer earned his Doctor of Dental Surgery from the University of Minnesota and has been practicing in Longmont for well over 20 years. He is a member of several different honor societies and professional organizations. At Longmont Complete Dentistry, he works alongside Dr. Dan Maurer, who graduated from the University of Colorado School of Dental Medicine. For more information on how to keep your smile in good shape, or to schedule an appointment, visit their website or call (303) 772-7000.