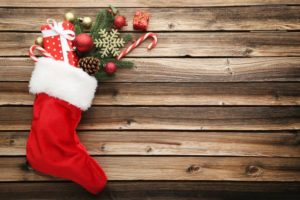 If you grew up in a family where you opened stockings at Christmas, you may have fond memories of pouring all of your favorite candies and sweet treats out of them. You've likely passed this tradition down to your own family. While sugar is inevitable part of the holiday season, your Longmont dentist shares some more smile-friendly stocking stuffers that you can add into the mix when filling your family's stockings this year.
Stocking Stuffers That Will Keep Them Smiling
Everyone knows that holiday stockings wouldn't be the same if they weren't stuffed with your favorite childhood candy, or your children's favorite bubble gum. Although these treats are nostalgic and delicious, they can tend to wreak havoc on your teeth. Here are a few items you can add in this year that will be kinder to everyone's teeth and still enjoyable and fun:
A Toothbrush: Before you ask, "are you kidding me?", you might be surprised at the difference providing your child with a fun toothbrush featuring their favorite superhero or movie character can make. When it comes to adults, who doesn't love getting a high-quality electric toothbrush to make their teeth feel cleaner?
Floss Sticks: Flossing may not be the activity you wake up feeling super excited about each day, but floss sticks can make the process much easier and quicker. For kids, there are also plenty of bright, colorful options that can help to interest them more. Plus, making flossing a less adonizing experience will likely mean that you and your family will do it more often!
Teeth-Friendly Treats: Most children don't like the flavor of traditional mint toothpaste, but there are plenty of fun flavors out there to make the process more enjoyable for them. You can also try adding in a few sugar-free candy or gum options as well, so your family can enjoy them while still protecting their teeth.
Healthy Snacks: No matter what age, everyone loves snacks! The good news is, there are still plenty of healthier options to drop into your family's stockings this year:
This year, while you're getting ready for the holidays, be sure to pick out a few smile-friendly options to keep your family's smiles shining brightly into the new year.
About the Practice
Dr. James Maurer and Dr. Dan Maurer are the father and son duo who lead the team of experts at Longmont Complete Dentistry. They are passionate about ensuring that each of their patients has the knowledge and tools that they need to keep their smiles healthy. Their years of experience and expertise makes them the best choice for your dental home in Longmont. Is your smile ready for the holidays? Request an appointment online or call (303) 772-7000.