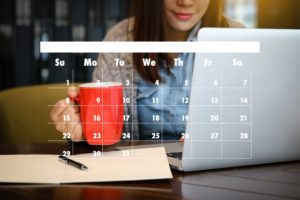 A new year brings all kinds of wonderful things to look forward to, and you probably start considering what yours will hold long before January 1st. This year, when you're making future plans, consider adding a visit to the dentist to the top of your list. In addition to your dental insurance resetting, and meeting your deductible, your Longmont dentist has several reasons to share about why scheduling a dental checkup at the start of the year is the way to go.
Why Should I Schedule a Dental Checkup Early in the Year?
When it comes to starting a new year, your schedule likely fills up quickly, but so does your dentist's. Here are a few reasons why it's a good idea to schedule your next dental checkup as early in the year as possible:
Better Availability
Your dentist's schedule fills up extremely quickly, and your own personal agenda probably just gets busier throughout the year. This is why it's a good idea to prioritize a visit the the dentist. Plus, just like "the early bird gets the worm," you'll have plenty of dates and times to choose from that will coincide with your schedule.
Insurance Benefits
Your dental insurance plan probably has a deductible, and once you've paid that amount in full, your insurance will fully cover additional costs. The sooner you and your family see your dentist, the quicker that amount will be met, saving you out-of-pocket costs on potentially unexpected treatments later in the year.
Early Detection
In addition to taking x-rays to examine the health of your gums and jawbone, each time you visit your dentist for a checkup, they perform and oral cancer screening. The earlier your dentist can detect potential issues, the easier it is for them to stop them in their tracks, saving you time and money on future costly treatments. Every time you see your dentist for a routine checkup, they perform an oral cancer screening.
Don't let the new year slip away without prioritizing your oral health and making the most of your dental insurance benefits! Your wallet and your smile will thank you!
About the Practice
Dr. James Maurer and Dr. Dan Maurer are the father and son team providing excellent care at Longmont Complete Dentistry. Their main priority is to help their patients keep their smiles healthy and bright so that they can have the highest quality of life. With their combined years of training and experience, they are able to provide the highest quality of care. If you're ready to get your next dental checkup in the books, you can request an appointment online or call (303) 772-7000.