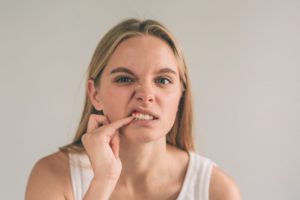 Over the past year, the world has been reeling from the effects of COVID-19. In an attempt to overcome the outbreak, scientists and doctors have been sharing and comparing data. Through their collaborative efforts, they have discovered a connection between gum disease and COVID-19. As you continue reading, learn how neglecting gum health can increase the risk of experiencing the more severe symptoms of the virus.
What's the Common Denominator?
A report titled "The Mouth Connection," which was published in an issue of the Journal of the California Dental Association, suggests that hospitalized COVID-19 patients with prior underlying gum disease may be at a higher risk of respiratory failure. This is significant considering that COVID-19 is a respiratory related virus.
Researchers found that patients with high levels of IL-6 (interleukin), a harmful protein that is elevated when the gums become infected, can experience life-threatening respiratory problems. Furthermore, if diagnosed with COVID-19, they're more likely to need a ventilator to breathe.
Preventive Methods
By taking better care of your gums, you can decrease the chances of developing gum disease, being infected with COVID-19 and experiencing the more severe symptoms. Here are some specific measures that you can take:
Limit your sugar consumption, as oral bacteria are attracted to its leftover debris.
Practice excellent dental hygiene, which should include brushing and flossing your teeth at least two times a day to keep bacteria growth under control.
Every 60 to 90 days, discard your old toothbrush to prevent new bacteria entering your mouth.
Visit your dentist every six months for cleanings and examinations. If you have a history of cavities, you may consider more frequent appointments to make sure there are no new developments.
Treating Gum Disease
The first step to receiving treatment for gum disease is to recognize the initial symptoms. Be on the lookout for bleeding gums, foul breath that won't go away, or gum or tooth sensitivity. If you notice any of these indicators, it's important to schedule a visit with a dentist.
One of the more common ways of treating the condition is with a scaling and root planing. The two-step procedure involves the dentist cleaning beneath the gum line to remove the plaque and bacteria. He or she will then smooth the tooth roots to discourage any new bacteria from accumulating in that area.
In addition to having your oral health restored, you'll receive expert pointers to aid in preventing any future flare-ups. Not only will this fortify your teeth and gums, but it will help to protect you from a COVID-19 infection.
About the Author
Dr. Dan Maurer earned his dental degree from the University of Colorado School of Dental Medicine. Throughout his career, he has managed to stay abreast of the various changes and breakthroughs in dentistry by taking several hours of continued education, which includes advanced courses from the Engel Institute and the Dental Practice Masters Online School. Dr. Maurer treats gum disease at Longmont Complete Dentistry, and he can be reached for more information through his website.