Dental Implant Frequently Asked Questions – Longmont, CO
Answering Your Frequently Asked Dental Implant Questions
There are many steps that go into the dental implant process, which is why many have questions about implants in general. Because we hear some of the same queries about this popular replacement solution on a regular basis, we've decided to include the answers to some dental implant frequently asked questions from our Longmont, CO dental patients.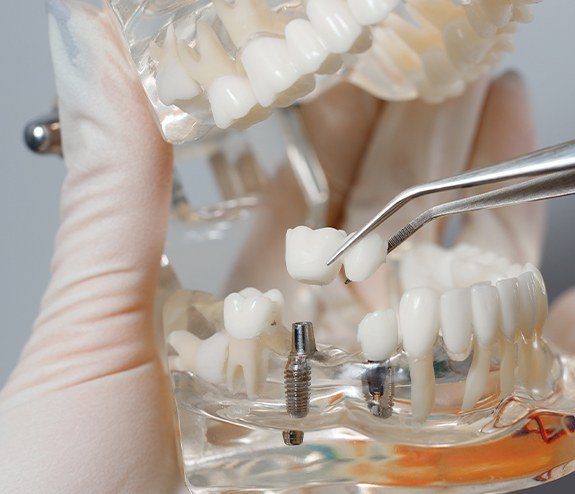 Are all dental implants the same?
Dental implants can range in size, shape, and material. We use titanium implants because the biocompatible material allows for the osseointegration process that ensures the permanence of your dental implants. The size of your implants will depend on where you're missing teeth and the size and strength of your jawbone.
Does it hurt to receive dental implants?
Many people hear about the process of receiving dental implants and automatically think that it's a painful procedure. However, our experienced dental team will ensure that you're numb and relaxed before we start the process. We even offer sedation dentistry to give you the option of a deeper sense of calmness. Dr. Maurer will start by making small incisions in your gums to access your jawbone. Then, he will create small holes to place your dental implants. The most pain that patients experience is typically in recovery, where they may feel soreness or bruising that subsides after a few days.
How long do dental implants last?
While dental implants do tend to have a higher cost than other replacements, the investment has the potential to last for the rest of your life. With proper care, patients can enjoy their dental implants for 30 years and even a lifetime. Maintenance is similar to your normal oral healthcare routine, so caring for them is easy.
Are dental implants covered by dental insurance?
The short answer is no. Insurance still doesn't view dental implants as a necessary treatment, however, our friendly dental office staff will do their best to maximize your insurance coverage. Some plans are willing to pay for some of the costs associated with the surgery or other parts of the process. The only way to know for sure is to visit our dental office and speak with our team!