Dental Implant-Supported Dental Bridges – Longmont, CO
Combining Implants with Bridges to Restore Your Oral Health
If you've lost two or more teeth in a row, a dental implant-retained fixed bridge may be just what you need to fully renew your oral health and function. These dental implant-retained prosthetics seamlessly fill gaps in the smile without adversely impacting your surrounding teeth or other oral structures. If you want to learn more about implant-supported dental bridges or any of your other tooth replacement options available at Longmont Complete Dentistry, give our team of professionals a call today. We'll schedule a tooth replacement consultation for you in our dental office to review your restoration options, including dental implant-suported dental brdiges from our Longmont, CO dentist who will help you develop a plan to put a smile back on your face.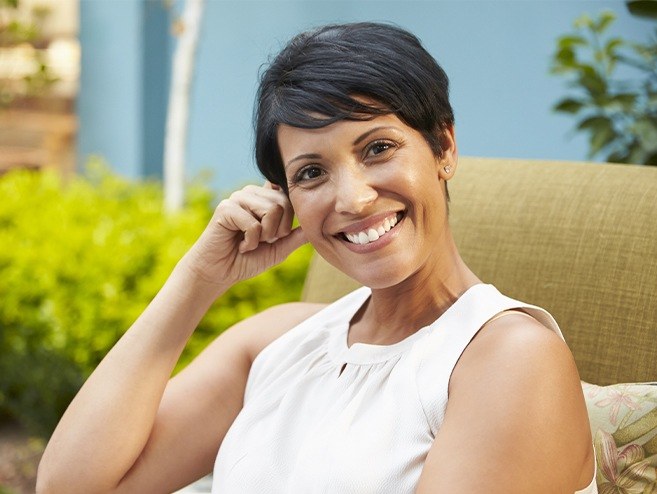 Why Choose Longmont Complete Dentistry for Dental Implant-Supported Dental Bridges?
No Alteration of Surrounding Teeth Required
Lifespan of 20+ Years with Maintenance
Various Convenient Payment Options
Implant-Retained Dental Bridges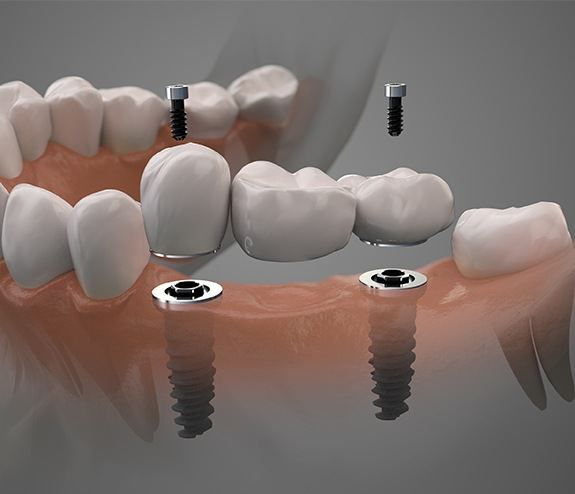 Traditional dental bridges are tooth replacement prosthetics crafted by placing dental crowns on either side of one or more replacement teeth. Then, the dental crowns are attached to healthy teeth on either side of the gap in your smile. A dental implant post is an anchoring device that mimics the natural function of tooth roots, providing support for replacement teeth and stimulus to the underlying bone and gum tissue. An implant-retained dental bridge uses two implant posts to support the bridge – rather than attaching to healthy teeth.
What Problems Do Dental Implant-Retained Bridges Address?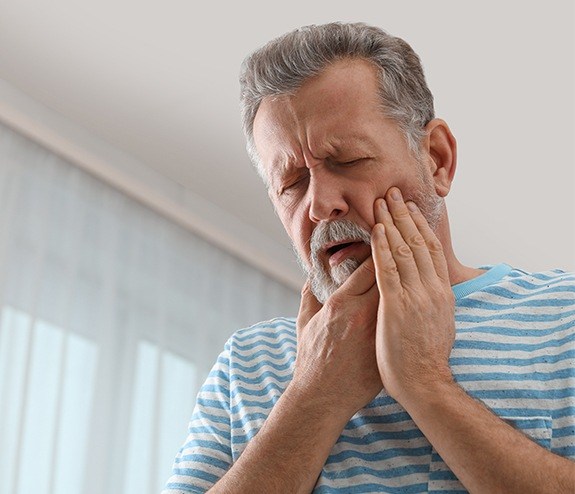 Dental implant bridges are used to replace two or more teeth in a row. For patients who have lost more than four or five teeth in a row, two dental bridges or a partial denture may be recommended instead of one long fixed bridge. In some cases, a series of dental bridges may also be used to replace a full row off teeth. This process can be very invasive, and in most cases, an implant-retained denture is used instead.
The Dental Implant-Retained Bridge Process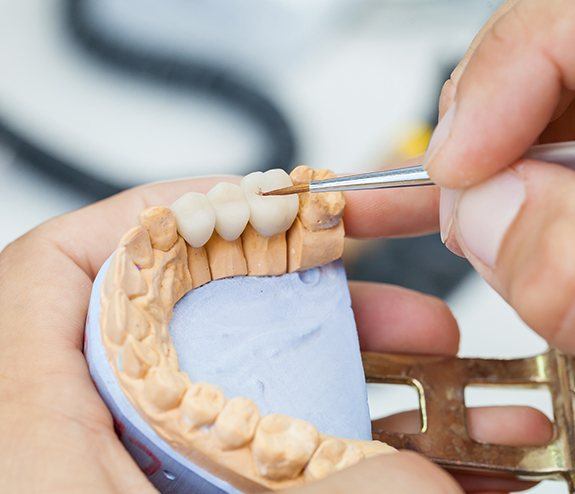 An implant-supported dental bridge is placed over the course of several phases of treatment. We'll begin by preparing your smile, which may include removing damaged teeth and placing tissue grafts. Then, the implant posts are positioned below the gum line. Over the course of several months, the implants will fuse to the gum and bone tissue. Once the implant posts are firmly in place, we'll design and attach your dental bridge.
The Benefits of Dental Implant-Retained Bridges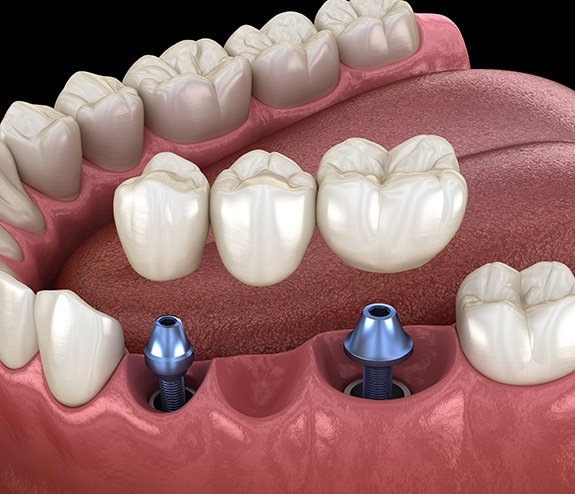 If you're still hesitant to move forward with an implant-supported tooth replacement plan, take a few moments to review some of the benefits of this treatment option below:
Self-supporting implant-retained fixed bridges will not impact your surrounding healthy teeth, and they will improve gum tissue volume and jawbone density that may be lost without the replacement of the tooth root.
Long-lasting prosthetics like implant bridges may save patients money in the long run by avoiding the need for regular repair and replacement every ten years, which is typically necessary with traditional bridges.
Easy to care for implant-supported fixed bridges allow patients to continue brushing and flossing each day as usual, and they make it possible for patient to eat all of their favorite foods.
Caring for Your Dental Implant-Supported Bridge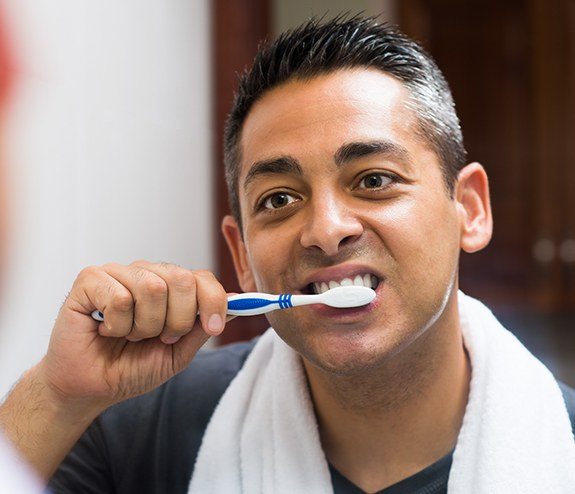 You can care for your implant bridge much like you would your natural smile. Brush your teeth twice a day, floss daily, and visit our dental office twice a year. You should also wear mouthguards to protect your smile from nighttime teeth grinding and clenching or during athletic competitions when appropriate. During your regular dental exams and teeth cleanings, we'll examine your restoration and provide recommendations to improve your at-home care routine.
A traditional dental bridge will need to be repaired or replaced at least every ten years. Implant retained dentures, with appropriate care, can last for decades. Many patients keep the same restoration for the rest of their lives.
Dental Implant Bridge Frequently Asked Questions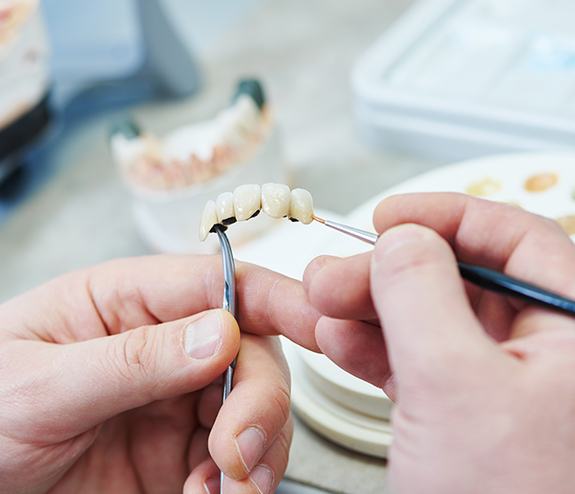 When a tooth is lost, more teeth are likely to follow. That's why learning more about dental implant bridges is one of the most important steps you can be taking right now for your long-term oral health. If you have additional questions regarding your dental implant bridge treatment, please take a moment to read a handful of the most common questions we receive regarding the treatment as well as detailed answers from our team. Feel free to reach out to us if your question is not mentioned.
What is recovery like immediately following treatment?
After the implants have been placed, you may experience minor bleeding, swelling and mild discomfort. However, this is normal for any type of oral surgery and should go away after a few days. While complications are rare, we ask that you maintain your follow-up visits in order to minimize them to the fullest if they do appear. After your final restoration is placed, follow-up visits will be needed as well. These appointments will allow us to confirm the implant bridge is functioning as intended and the implants are remaining integrated.
Does dental implant placement surgery hurt?
No, receiving dental implants is not felt during the surgical phase of treatment. This is because local anesthetic is administered prior to surgery beginning. You should not feel anything as the incisions are made and the implants are placed into the jaw. Additionally, many oral surgeons provide sedation dentistry to help patients who may feel nervous about their upcoming treatment.
Will I be put to sleep to receive a dental implant bridge?
Not necessarily. In some cases, oral surgeons will ask if patients would like to be sedated prior to placement of the implants. However, there are other instances where surgeons will strongly recommend mild sedatives as a way to keep patients relaxed throughout treatment. Keep in mind that the only form of anesthesia that will put you to sleep entirely is general anesthesia. This method is largely unnecessary for dental implant treatment. If you do receive a sedative, it is more likely to be oral conscious sedation, which is taken orally, intended to relief moderate anxiety, and does not put you to sleep.
Are dental implant bridges worth it?
When compared to traditional dental bridges, we believe that implant-retained versions are fully worth it, thanks to their longevity and reliability. Many patients note that implants make it easier for them to eat their favorite foods thanks to the improved biting strength they provide. Furthermore, dental implant bridges are also capable of lasting much longer than bridges. Traditional bridges generally last between five and 15 years, making them less cost-effective compared to dental implant bridges that easily last for decades.
What influences the cost of a dental implant bridge?
The most notable factors that will influence the cost of your dental implant bridge is the number of implants that need to be replaced to restore your smile. If you need to have multiple bridges placed, it may make more sense to consider an implant-retained denture.