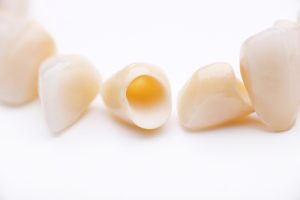 Many patients can't understand why the dentist would recommend porcelain materials to repair teeth. Delicate things like porcelain dolls and porcelain teacups come to mind first, and it may seem unlikely that porcelain is strong enough to repair damaged teeth or enhance your smile. However, think about the strength of a porcelain knife. The type of porcelain, design, and use make all the difference when it comes to the strength of porcelain. In fact, dental-grade porcelain is typically just as strong (if not stronger) than your natural tooth enamel. Whether you're considering cosmetic treatment using porcelain veneers or dental restoration with a porcelain crown or bridge, a skilled dentist can create durable, long lasting porcelain restorations that leave you with flawless smiles.

Types of Porcelain
Porcelain is available in a variety of forms. Actually, the group of materials is more often referred to as ceramics. These materials can be used for a number of different restorative and cosmetic treatments and choosing the right type of porcelain ensures you'll have a restoration that lasts. Some of the main types of porcelain include:
Feldspathic porcelain – crafted using multiple layers of quartz based porcelain, this material has been used for decades to create durable, high quality veneers
Glass leucite – combines glass and ceramic to create a durable porcelain material that is most often used to make dental crowns and fixed bridges
Zirconium – a byproduct of the chemical reaction between zirconium and oxygen, zirconium dioxide is often used to create a base for restorations that are then layered with feldspathic porcelain
How Porcelain Restorations are Designed & Placed
The strength of a porcelain restoration is in the design and placement. The supportive dentin and pulp layers of your tooth provide a sturdy foundation for porcelain. When molded to fit snugly against your remaining healthy tooth structures and cemented in place, porcelain is just as strong as tooth enamel.
Meet the Longmont Complete Dentistry Team
At Longmont Complete Dentistry, our dedicated dentists and dental care team are happy to offer patients a wide range of cosmetic and restorative dentistry services, using the highest quality porcelain and ceramic materials. If you want to learn more about your restoration options, call to schedule a treatment consultation visit with our caring Longmont dental team today. We'll be happy to examine your smile and walk you through all the available treatment options and materials. Whether you need a dental restoration or cosmetic dentistry, our skilled dentists offer a wide range of services to meet almost any patient's need.