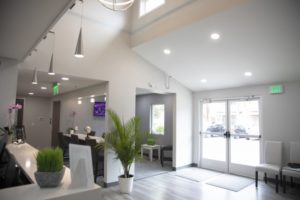 Drs. James and Dan Maurer have always taken pride in providing top-quality care in a welcoming environment — and that environment has recently undergone some significant changes! Whether you have been loyal to our practice for years, or you are looking for dentist in Longmont who can care for all of your oral health needs, we can't wait to let you check out our newly remodeled dental office. Let's talk more about our office renovation and what you can expect at your next visit.
Our Remodeled Office
Sleek, modern, and appealing are just a few of the adjectives we would use to describe our dental office. From the moment you walk in the door, you'll notice relaxing neutral colors, accented by pops of green in the form of plants. Cast your eyes upward, and you'll see some cool lighting fixtures that are the perfect complement to our office's 21st century aesthetic. There is plenty of natural lighting as well. During your appointment, you'll notice that our operatories are well-organized and that they feature pleasant artwork for you to enjoy during your treatments.
We wish we could host an open house or invite you to stop in just for a tour. Due to COVID-19, however, we are continuing to make efforts to limit foot traffic in our office and promote social distancing to the extent possible. Current circumstances mean that the best way for you to check out our new office in-person is by waiting for your next appointment, whether you have some upcoming restorative treatment or you are planning your second checkup of 2020.
Our Commitment to You
Our recent office renovation is a reflection of our commitment to our patients. We want you to be comfortable every time you set foot in our practice!
Of course, we understand if the pandemic makes you wonder whether it is really safe to go to the dentist. We want to assure you that we are as dedicated to cleanliness and safety as ever. Some of the safety features we have in place include advanced chairside suction devices, HEPA air filtration, and a UV smartphone box that sanitizes cellular devices. Our team is also diligent about wearing all the proper PPE, including shoe covers, protective coats, face shields, and face masks. We miss letting you see our bright smiles, but you'll be able to see our smiles in our eyes!
We are proud of our recently remodeled dental office, but we are even more proud to provide excellent oral care to our community. We can't wait to see you for your next appointment!
More About Our Practice
Dr. James Maurer has been serving as a dentist for decades, and now he is proud to work alongside his son, Dr. Dan Maurer. Along with a talented team of hygienists, assistants, and front office staff, they provide a personalized, friendly, and high-quality dental care experience for the families who trust us to care for their smiles. If you would like to learn more about us and how we can serve you, contact us at 303-772-7000.